Atlanta Track Club offers a comprehensive schedule of events for both elite and developmental athletes on the roads and on the track. Most include travel and lodging support for elite entries and more than $100,000 in total prize purses and bonuses for top placers and eligible athletes.
Masters and Open athletes looking for complimentary entry into non-elite events (ex. Invesco QQQ Thanksgiving Day Half Marathon) should refer to our comped entry standards found here to determine eligibility before contacting elites@atlantatrackclub.org.
All athletes interested in participating in Atlanta Track Club's elite events with professional fields and prize money should contact elites@atlantatrackclub.org with the following information:
Desired Race

Athlete Name
Gender Division
Age
Nationality
Recent Race Result
Lifetime Best for the Distance
Link to World Athletics or TFRRS Profile
Athlete Representative Name
Club and/or Sponsor
Email Address for Contact
Please include any particular connection you have to Atlanta or previous Atlanta Track Club events and if you request travel and lodging support.
Please note, all Atlanta Track Club elite races are subject to comprehensive drug testing.
World Athletics Label
All Atlanta Track Club elite races are World Athletics Label events. The World Athletics Label is available to all officially sanctioned road races that have taken place for at least two consecutive years prior to 2022 with an international measurement certificate in place.

Through choosing to have a World Athletics Label, race organizers also show a tangible commitment to clean sport by funding a dedicated road racing out-of-competition testing program, managed by the Athletics Integrity Unit.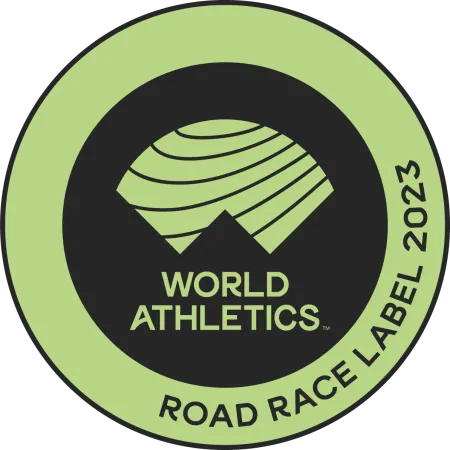 USATF Masters 5K Championships
Date: February 24, 2023
Location: Centennial Olympic Park, Atlanta, GA
$8,000+ total prize purse for masters athletes and teams
Click here for more information, do not email elites@atlantatrackclub.org
Click here to register through USATF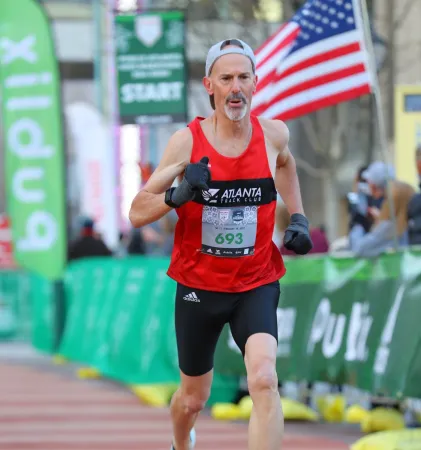 Publix Atlanta Half Marathon
Date: February 25, 2024
Location: Centennial Olympic Park, 265 Park Ave W NW, Atlanta, GA 30313

Travel and lodging support available for elite entries
International and domestic athletes accepted
$38,000 total prize purse
$2,500 race winner's bonus for the fastest half marathon on Georgia soil (men: Nicholas Kosimbei - 1:00:36 and women: Dorcas Tuitoek - 1:08:22)
$500 bonus for the Top Georgia resident for the fastest half marathon on Georgia soil by a Georgia resident (men - 1:06:15 and women - 1:15:36)
2023 Top 3 Men: 1. Tsegay Kidanu - 1:00:39, 2. Geoffrey Koech - 1:02:09, 3. Shadrack Kimining - 1:02:35
2023 Top 3 Women: 1. Vibian Chepkirui - 1:08:45, 2. Helah Kiprop - 1:10:29, 3. Selam Fente - 1:11:11
| Place | Prize Money | Place | Prize Money |
| --- | --- | --- | --- |
| 1st | $7,500 | 2nd | $5,000 |
| 3rd | $2,500 | 4th | $1,500 |
| 5th | $1,000 | 6th | $750 |
| 7th | $500 | 8th | $250 |
| | | | |
Atlanta Journal-Constitution Peachtree Road Race
Date: July 4, 2024
Location: Midtown Atlanta
Travel and lodging support available for elite entries

International and domestic athletes accepted
$70,000 total prize purse for Elites
$5,000 course record bonus (men: Rhonex Kipruto - 27:01, women: Brigid Kosgei - 30:22)
$5,000 dedicated for Masters and Top Georgian prizes (1st - $1,000, 2nd - $600, 3rd - $400; Top Georgian - $500)
| Place | Prize Money | Place | Prize Money |
| --- | --- | --- | --- |
| 1st | $12,500 | 2nd | $7,500 |
| 3rd | $5,000 | 4th | $3,000 |
| 5th | $2,500 | 6th | $2,000 |
| 7th | $1,500 | 8th | $1,000 |
| | | | |